Photo Credit: Ritzau Scanpix
When the players step onto the field for the Champions League final in Kiev on Saturday, there'll be one team far more used to the biggest stage of them all.
Real Madrid and Liverpool are contesting this year's final – often referred to as the pinnacle of the club game, and almost certainly the most prestigious club match in the world.
The two clubs have a proud European heritage, though Real's is more recent than the Reds'.
The Spanish club are into their fourth final in five years, with the spine of the squad remaining similar throughout, and are hoping to make it an unprecedented hat-trick of titles, having won the famous trophy in 2016 and 2017.
Liverpool, despite having five European Cups to their name, haven't reached a Champions League final since 2007 – long before any of the current squad arrived at Anfield.
Our research shows just how big the gulf in experience between the two clubs really is.
Ahead of Saturday's match, Real Madrid's squad have a combined 37 Champions League final appearances to their name – while Liverpool's squad have none.
Despite wowing Europe in their run to this year's showpiece, none of Jurgen Klopp's charges have ever taken to the field in a Champions League final before – a stat that should alarm Reds fans.
In fact, Liverpool's players have only appeared in 47 finals in total – well behind Real's figure of 197,
With the pressure and atmosphere in Kiev likely to be intense on Saturday, that extra experience could see the calm heads of Real prevail – as they have in three of the past four seasons.
Real's squad have won 35 of those 37 games, with Cristiano Ronaldo (as a Manchester United player) in 2009 and Toni Kroos (as a Bayern Munich player) in 2012 the only men to finish on the losing side.
Zinedine Zidane's side have a remarkable record in finals too, winning 162 of their 197 collective finals – 82.23%.
The same can't be said for Liverpool, who have just 19 wins from 47 matches to their name, at a paltry win rate of 40.43%.
Real's players leave Liverpool's in the shade when it comes to goals too – scoring 42 goals in total (10 of those coming in Champions League finals), compared to just four from Liverpool.
It remains to be seen whether Adam Lallana's goal for Southampton in the 2010 Johnstone's Paint Trophy final will stand the Reds midfielder in good stead for this Saturday.
When it comes to the bosses, despite one being a relative newcomer to management, it is still Real who hold the upper hand.
Zidane has only been a manager since 2016, but has taken Real Madrid to the trophy twice in his two years in charge – and will hope to make it a third on Saturday.
In a short space of time, Zidane has led his club to a remarkable seven finals, and even more incredibly, has won all of them.
That adds to his proud playing record of 12 final wins from 19 appearances – including the 2002 Champions League final.
Klopp has been a manager since 2001 – and his record of 10 finals in that time is one that most managers would be envious of.
The German led Borussia Dortmund to the 2013 Champions League final, overcoming Real Madrid in the semi-finals, and he certainly knows what this stage is all about.
However, reaching a final is one thing, but winning it is another.
Klopp has won just three of his 10 finals, and has lost each of his last five.
Having never appeared in a final during his playing days, Klopp will hope to break that unwanted run with victory on Saturday.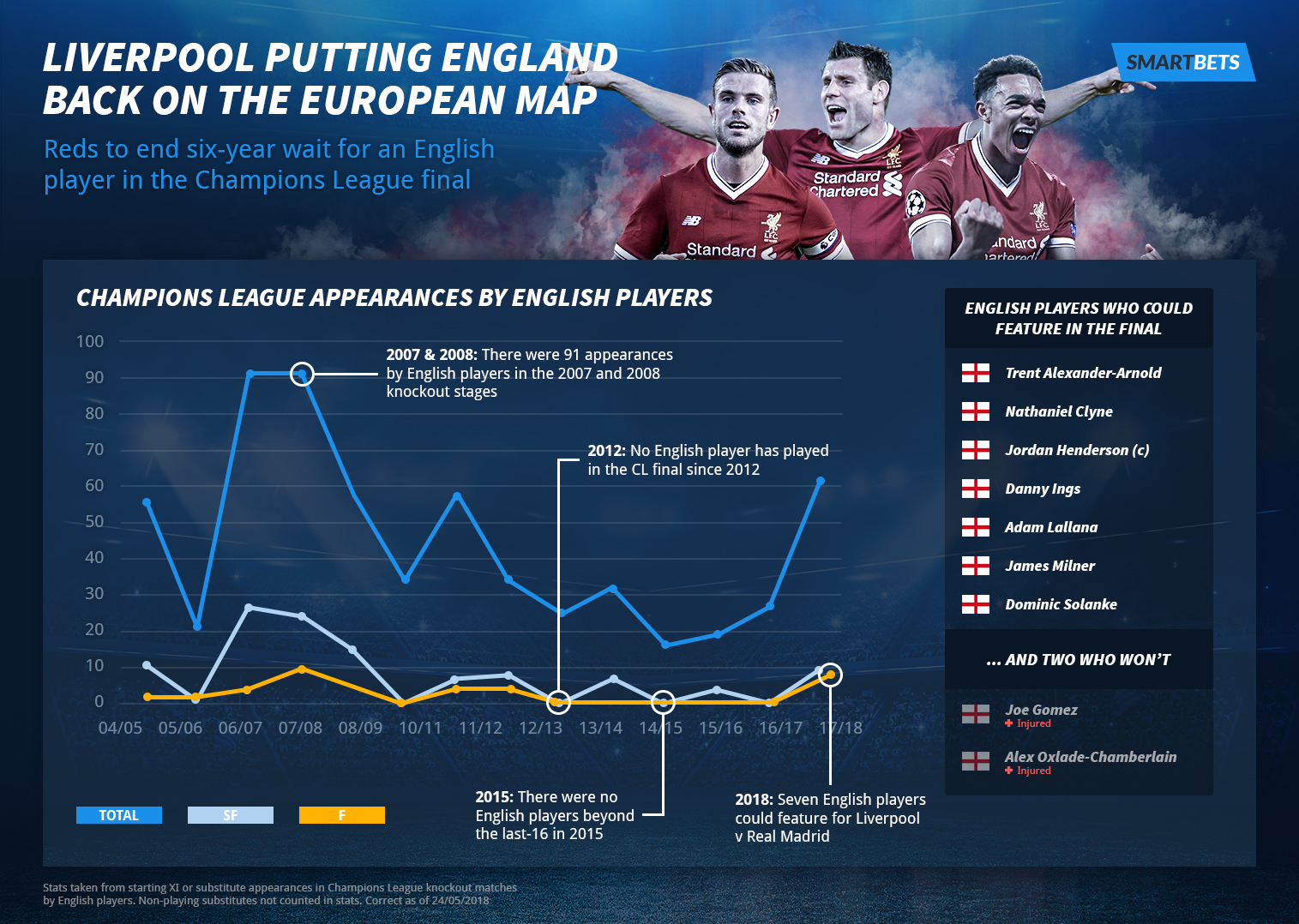 One thing's for certain – when Liverpool take to the field in Ukraine, they'll have a very English core.
Led by captain Jordan Henderson, the Reds have been fired to the final thanks to the likes of James Milner, Alex Oxlade-Chamberlain and Trent Alexander-Arnold playing crucial roles.
While Oxlade-Chamberlain is out injured, and the likes of Lallana, Danny Ings and Dominic Solanke may be relegated to the subs bench, one thing is for certain – there'll be the first English representative in the Champions League final since 2012.
It's been six long years since Chelsea fielded a player from England when they won the trophy against Bayern Munich – indicative of how England's star has fallen on Europe over the past decade.
Back in the 2007 and 2008 seasons, there were 91 appearances from English players in the Champions League knockout stages – culminating in an all-English final between Chelsea and Manchester United in 2008.
However, by 2015, there was not a single English representative beyond the last-16, as the quarter-finals, semi-finals, and final all played out without any appearance from an Englishman.
That's changing this year though, thanks to Klopp's home-grown core.
That unwanted six-year run will be ended on Saturday, with Reds fans hoping it is an English player in Henderson holding the trophy aloft at the end.
If he does, it'll be a triumph for the fresh blood of Liverpool over the experience of Real Madrid.
Given how the Reds have upset Europe on the run to the final, it would be a brave man to bet against them.